HOLIDAY DESTINATIONS - Azerbaijan, Georgia & Armenia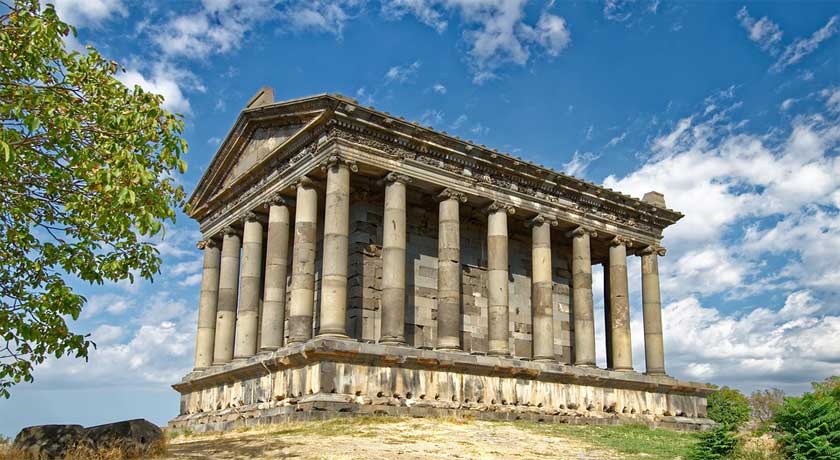 attach_money Starting Price
business_center Inclusions
hotel local_see
---
12 DAYS - 3 COUNTRIES TOUR
Expat Explore has released an incredible new tour!
This time we're discovering a part of the world that offers unrivaled and authentic travel experiences. On the border of Europe and Asia lies the Caucasus region. This mountainous area lies between the Caspian and Black seas. It's home to Azerbaijan, Georgia & Armenia. Each country promises untapped travel experiences and adventure. Stroll through picturesque old towns, historic capitals, and into Orthodox monasteries in the lushest valleys. Taste Georgian wine in the Kakheti province, made using the oldest method in the world. Even sitting down for a traditional meal with an Armenian family, and take an off-road drive to the hidden Gergeti monastery - one of the world's most beautiful churches.

HIGHLIGHTS OF THE TOUR
Explore the vibrant and historic capitals of Baku, Tbilisi and Yerevan
Wine tasting in Khareba, lunch with a family in Odzun and dinner with the locals in a Molokan village
---
INCLUSIONS
Accommodation (3-4 star hotels)
11 nights' accommodation in twin rooms with private en-suite facilities
Meals
11 breakfasts, 4 lunches, 3 dinners

Transport
Modern air conditioned coach with reclining seats, TV for showing DVDs and toilet
Any public transport used as part of the tour (excludes free days)

Extras
Services of your Expat Explore tour leader, who will be on hand with advice and tips to ensure that you get the most from your trip, and expert local guides



TOUR EXPERIENCES
Visit and explore Gobustan National Park
Embark on a mud volcano safari
Baku city sightseeing tour
Visit the Yeddi Gumbez mausoleum, Shamakhi
Visit Dzhuma Mosque, oldest mosque in Azerbaijan
Explore the Mother of Alban temple, Kish
Spend a free evening in Sheki to explore
Visit Khareba winery for a wine tasting experience
Explore Gremi architectural complex
Spend time in the royal town of Signani
Embark on a walking tour of Tbilisi
Visit Metekhi church
Visit Narikala Fortress
Visit Sioni cathedral
Spend a free day exploring Tbilisi at your leisure
Drive the Georgian Military Highway
Explore the Ananuri fortress and architectural complex
Dine with a local Georgian family
Take an adventurous drive to Gergeti Trinity church
Drive up to the Jvari monastery, Mtskheta
Visit the Russia-Georgia Frienship Monument
Visit Svetitskhoveli cathedral
Visit the birthplace of Joseph Stalin; explore the Stalin museum
Stop and explore the Akhtala Monastery
Sit down for a traditional lunch in Odzun
Experience an Armenian honey demonstration
Visit Hagphat, a UNESCO World Heritage Site
Explore the unique way of life in a Molokan village
Visit and explore Dilijan, 'Switzerland of Armenia'
Visit Lake Sevan; Explore the Sevanavank Monastery
Set foot in the Geghard Monastery (Monastery of the spear)
Visit the Garni Pagan Temple
Embark on a Yerevan city tour
Sit down for a traditional Armenian dinner




NOT INCLUDED

International flights

Travel insurance
---
Day 1: Arrival in Baku
Start in Baku, the largest city on the Caspian Sea and capital of Azerbaijan.
Today you have time to settle in and explore at leisure. Think of the city as a combination of Paris and Dubai, a place that offers both history and contemporary culture, and an intriguing blend of east meets west. The heart of the city is a UNESCO World Heritage Site, surrounded by a fortified wall and pleasant pedestrianized boulevards that offer fantastic shopping opportunities.
Attractions include the local Carpet Museum and the National Museum of History and Azerbaijan.
Day 2: Baku - Gobustan National Park - Mud Volcano Safari - Baku Old City Tour (Breakfast)

After breakfast, drive straight into exploring the history of Azerbaijan!
Head south from Baku to Gobustan National Park. This archaeological reserve is home to mud volcanoes and over 600,000 ancient rock engravings and paintings.
After exploring this national historical landmark of Azerbaijan, we make our way back to Baku city and embark on a sightseeing tour.
Then, it's onto the iconic Icheri Sheher, the Old (or Inner) City of Baku. This is a UNESCO World Heritage Site and includes the Palace of the Shirvanshahs and Maiden Tower.
Wind down after a day of exploring by walking along the flower-lined central boulevards of the city.
Finally, make a stop at the updated Fountains Square, an area famous for its dozens of fountains and numerous shopping boutiques.
Day 3: Shamakhi – Sheki (Breakfast, Lunch)
First sight of the day is Shamakhi, an ancient city of Azerbaijan, to see where the first dynasty of the state of Shirvan was founded.
Visit Yeddi Gumbez, the mausoleum known as the Seven Domes, where the remains of the last of the Shamakhi Dynasty lies.
We'll then visit Dzhuma Mosque, the oldest and largest mosque in Azerbaijan.
Our next stop for the day is Kish, one of the oldest villages in Azerbaijan.
We visit the Mother of Alban church and ancient cemetery that dates back all the way to the 6th Century.
Once we reach our final destination, Sheki, you will have the evening to explore at your leisure.
Day 4: Sheki – Kakheti – Khareba Winery - Signagi (Breakfast)

Today, we cross the border into the Kakheti region of eastern Georgia.
Our first stop is the Khareba winery for a local wine tasting experience. Georgia has a wine history that dates back more than 8,000 years!
Continue to Gremi, the once glorious capital of the kingdom of Kakheti to see the church and castles erected in the 16th Century. Soak in the views of the Alazan valley before heading to Signagi, Georgia's city of love. This royal town is surrounded by a wall of 23 towers and 6 gates that used to connect it with Europe and Asia.
Take time this afternoon to stroll the cobbled streets, see the rustic buildings and shop from local vendors.
Day 5: Signagi – Tbilisi (Breakfast)
Venture to the capital of Georgia, Tbilisi!
While exploring the city a memorable stop is the 13th Century Metekhi Church.
Other sights to explore include the Sulfur Baths and the 4th Century Narikala Fortress.
Why not wander through Sioni cathedral, and follow the history in the Tbilisi National Museum.
Day 6: Kazbegi – Tbilisi (Breakfast, Lunch)
This morning we drive along one of the most intriguing roads in the Caucasus!
The Georgian Military Highway is the historic route that connects Georgia to Russia.
On your way, you will pass the most incredible scenery. From remote villages to castles and other sights that are steeped in history.
Stop and take in the significant Ananuri fortress complex, built in the late Feudal times, and the remarkably scenic location on the foreland by the Aragvi River.
Next, we make our way to the Ananuri Fortress. This 13th Century church complex was once the castle and seat of the eristavis (Dukes) of Aragvi.
Dine with locals in their home.
The last part of the day is a scenic adventure.
We drive uphill in four-wheel-drive vehicles, through narrow gorges and unspoiled mountains, until we find the prize of Georgia's isolated Gergeti Trinity church.
Day 7: Mtskheta – Gori – Tbilisi (Breakfast)
Mtskheta is our first stop of the day. Inhabited since before 1,000 BC, Mtskheta was once the capital of the early Kingdom of Iberia (Eastern Georgia today).
Drive up to Jvari monastery, a Georgian Orthodox monastery built on a hill.
Shortly after the adoption of Christianity, an enormous wooden cross was erected on this site.
In the second half of the 6th Century, a small church was built beside the Holy Cross. The church complex has been listed as a UNESCO World Heritage Site in 1994.
Next up, is a visit to Svetitskhoveli Cathedral. This religious center dates back to the 6th Century and is also a UNESCO World Heritage site. Learn more about Georgian architecture and the tombs of Tbilisi's founder located inside.
Continue to Inner Kartli province, to the town of Gori. This Georgian town is famous for being the birthplace of Joseph Stalin.
See and explore the Joseph Stalin Museum and the house he was born in.
Day 8: Sadakhlo - Akhtala - Odzun - Qefo (Breakfast, Lunch, Dinner)
Armenia is on the cards after breakfast today!
First stop after we cross the border is the Akhtala Monastery, known for its 13th Century artistic frescoes.
After exploring, we continue to our lunch stop of the day - Odzun, a historic village located on the Debed river bank. Enjoy an included traditional lunch served by a local family in their home.
Also, take the chance to learn more about the family's beehives and how they make honey.
Day 9: Haghpat - Molokan - Dilijan (Breakfast, Lunch, Dinner)
Start the day with a gentle walk to explore the UNESCO World Heritage site of Haghpat, visiting a WWII war memorial along the way. The medieval monastery complex overlooks the Debed river gorge and provides incredible views of the surrounding hills.
Travel through the region inhabited by the Molokan people. Molokans are the largest minority in Armenia, exiled from Russia in the 19th Century.
Dine with locals in a traditional Molokan home. Journey through the Dilijan National Park to make it to the spa town of Dilijan. Known for its spas and traditional craft workshops, Dilijan is surrounded by forests and located in the Argstev gorge.
With marvelous views, it's no wonder it's known as the Armenian Switzerland.
Day 10: Dilijan - Sevan Lake - Geghard - Garni - Yerevan (Breakfast)
This morning, it's a short drive to Lake Sevan. This is the highest freshwater lake in the Caucasus.
Visit the Sevanavank Monastery, from where you can enjoy the breathtaking scenery of Sevan and surrounds.
Drive to the UNESCO-protected Geghard Monastery. This ancient chapel was originally founded as a small cave chapel as early as the 4th Century!
We'll make a photo stop near to the border with Turkey for incredible views of Mount Ararat, the place where Noah's Ark is said to rest.
Continue to the Garni Pagan Temple, located in the State Khosrov Reserve. This is the only temple that remained after the adoption of Christianity.
Take the opportunity to listen to the Duduk - an Armenian instrument made of apricot wood. Its sound is said to have human-voice quality.
Day 11: Yerevan city tour - Echmiatsin - Yerevan (Breakfast, Dinner)
Today we'll explore Yerevan. Here, a city tour will reveal all the main places of interest. See the sights of Yerevan Cascade, a giant stairway made of limestone and the Matenadaran museum.
See the likes of Abovyan Street, the Republic Square and Cafesjian centre of Arts.
The last stop is the Yerevanian food market, also the best place to sample some fresh Armenian fruits and sweets.
For the last night on tour, sit down for a traditional Armenian meal accompanied by traditional Armenian music and dancing.
Day 12: End of tour (Breakfast)
After breakfast, your 12 day Caucasus adventure comes to an end.
It's time to say goodbye to your fellow travelers and remember to share your contact details, so that the memories live on through shared photos.
---
VISA INFORMATION NOT FOUND!
Please include visa information in your inquiry.
For major countries please visit our Visa Assitance Page.
DATES & PRICES
Lowest-priced seats are sold first, then the price increases slightly.


The quicker you book, the less you pay.




START POINT
Hotel Royal Garden
1 Bakikhanov street, Baku 1065, Azerbaijan


from 14:00 hrs


END POINT
Royal Plaza Hotel
9 Martiros Saryan St, Yerevan 0002, Armenia
10:00 hrs




22 Jun 2020 - 03 Jul 2020 starts at AED 5050 per person

31 Aug 2020 - 11 Sep 2020 starts at AED 5050 per person

14 Sep 2020 - 25 Sep 2020 starts at AED 5050 per person

28 Sep 2020 - 09 Oct 2020 starts at AEd 5050 per person

19 Apr 2021 - 30 Apr 2021 starts at AED 5050 per person

17 May 2021 - 28 May 2021 starts at AED 5050 per person





Are children allowed on your tours?

Our tours are not suitable for children under the age of 10 years old. However, at the discretion of Expat Explore we may consider younger children on certain tours if they meet certain criteria and a request is received in writing via email for consideration. Expat Explore reserves the absolute right to accept or decline a booking at our discretion.




Can you cater for my dietary requirements?

Before the tour starts, you will receive an email from us requesting your dietary requirements. There is always a vegetarian option, which is a meal without meat. We try as much as we can to offer you the traditional local cuisine.
---
WHY CHOOSE SOUTH TRAVEL?
Best Price Guaranteed on over 200,000 hotels and packages. Combine & Save - huge savings when you book a flight & hotel together.
Low Rates Guarantee
Instant Confirmation
High Room Availability Even Peak Season
E-mail Confirmation Directly After Booking
Happy and Satisfied Customers
Rates includes all applicable taxes
No Hidden Charges
IMPORTANT INFORMATION
Dear Valued Customer,

We would like to inform that this is the official website of the following Organizations.

South Travels DMCC (JLT, Dubai Office)
South Travels and Tourism LLC (Deira, Dubai Office)
South Travel and Tours (Islamabad Office)
Kabayan South Travel Inc. (Canada Office)
Canada Travel & Tours (PVT) LTD (Islamabad, Pakistan Office)
For other website/page, or any other form of web publishing with or without the company logo and/or contact information apart from listed above are ILLEGAL, any transaction NOT coming from our official email addresses will NOT be entertained. Inquiries, complaints and any form of communication with our clients from all our offices location should always thru our official contact details.

Thank you.
---
---